Tributes to Curtis Mayfield came in many different packages - from bronze plaques in Hollywood to music industry celebrations. Some came before he died - allowing him to appreciate the applause and approval. Others came afterwards, more reflective, time to show respect due to this quiet force in music and social change.

Recordings - repackaged or newly produced - were the most common tribute. Here, the concentration is on how groups of creative people came together to honor the Gentle Genius of Soul.
1997 Annual Soul Train Awards - Quincy Jones Award for Outstanding Career Achievements.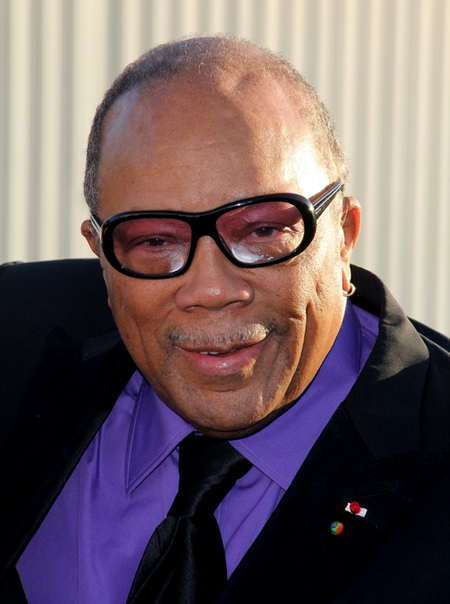 Don Cornelius, creator of TV's "Soul Train", is the one who called Curtis Mayfield "the master storyteller" and featured him many times, in differing segments on his programs; one of the longest running syndicated shows in TV history.

None was more important though than Mayfield's appearance at the 1997 Annual Soul Train Awards at the Shrine Auditorium in Los Angeles. There, surrounded by fellow members of the recording world, Mayfield received the Quincy Jones Award for Outstanding Career Achievements. The fact that he accepted it from Quincy Jones himself was an extra bonus with a touch of the historic to it. The two of them stood side by side and acknowledged the audience applause, two men who'd probably done the most of any, each in his own way, to break the barrier for African Americans in the film music soundtrack world.

Mayfield was among friends that evening; co-hosting the awards was Gladys Knight.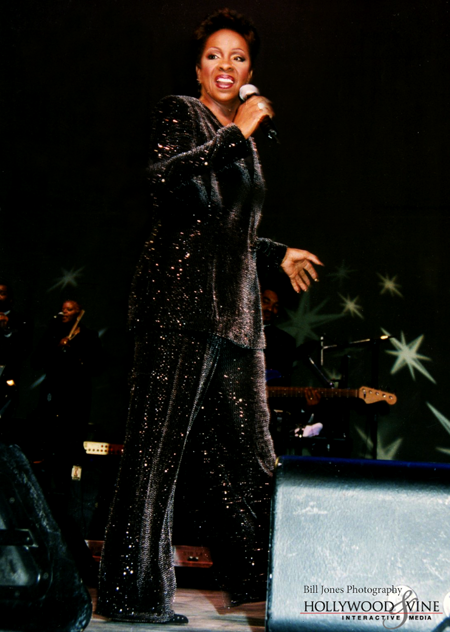 Mayfield had many reasons to be appreciative of "Soul Train" and, one in particular, was the time Don Cornelius named a Mayfield album as one of the official "Soul Train Soul Classics." It was an intriguing choice Cornelius picked; not one of the powerhouse soundtrack albums or one that represented the Chicago soul sound Mayfield had helped launch, but, "Back to the World," Mayfield's third Gold album; one that had raised questions due to its content. This was probably Mayfield's most quietly effective "message" albums but is somewhat overlooked in this context because it dealt with another divisive moment in American history and one that many considered affected African Americans disproportionately - the Vietnam War.

The "World" in the title is what Black Vietnam draftees called America and the subject was so problematic at the time that it certainly cost Mayfield valuable airplay, a fact that he doubtless knew in advance but did not allow to deter him. And the song/messages in "Back To The World" also refer to another war, a civil one, one that was happening closer in the "World" - the War of the Ghetto: drugs, poverty, and violence; again, not something to grab immediate airplay. Mayfield always felt grateful to Cornelius for taking a stand this way about his recording and its commentary.

Mayfield was with Don Cornelius at the end. When the "Soul Train" pioneer died in 2012 Curtis Mayfield's music was part of the funeral ceremonies.
"IT'S ALL RIGHT TO HAVE A GOOD TIME – THE CURTIS MAYFIELD STORY" The Black Ensemble Theatre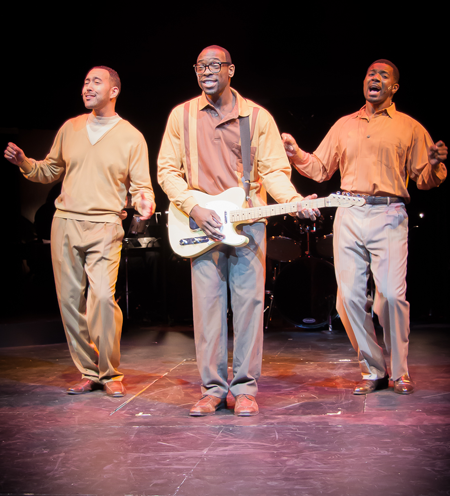 "It's All-Right To Have a Good Time," a stage production from by the Black Ensemble Theatre in Chicago, was the life story of Curtis Mayfield, written (and co-directed) by award winning playwright Jackie Taylor. Like Mayfield, she comes from Chicago's North Side Cabrini Green housing projects and says she remembers watching Mayfield and his friends - the "big boys" - rehearse when she was six. About the Mayfield music heard onstage in the play, she says: "The messages still resonate today in terms of self pride and dignity as an African American. " Taylor is a playwright who makes Chicago her cultural home. Among many awards, she has a Lifetime Achievement Award from the League of Chicago Theater. She has also written and/or directed more than 100 plays including works based on the lives of Teddy Pendergrass, Billie Holiday, Jackie Wilson and Etta James.

Reggie Torian is another "It's All Right…" member with Curtis Connections. In the play Torian represents Mayfield at the end of his life, paralyzed in a wheelchair or laying flat on his back. The performances marked his acting debut but by no means his first time onstage. As a young singer, Torian was one of those chosen to replace Mayfield as a lead singer with The Impressions when Mayfield elected to go for a solo career. Torian remained four decades on and off with the group.

About his acting role, Torian said simply: "The emotion of the music becomes the emotion of the dialogue. I was able to draw on this." As Torian narrated the Mayfield life story, a younger trio on stage acted and performed the music.
"All Men Are Brothers: A Tribute to Curtis Mayfield"
"Curtis Mayfield is to Soul Music what Bach was to the Classics and Gershwin and Irving Berlin were to Pop Music; a soul laureate and catalyst, and the heart and soul of a song and a people." - Aretha Franklin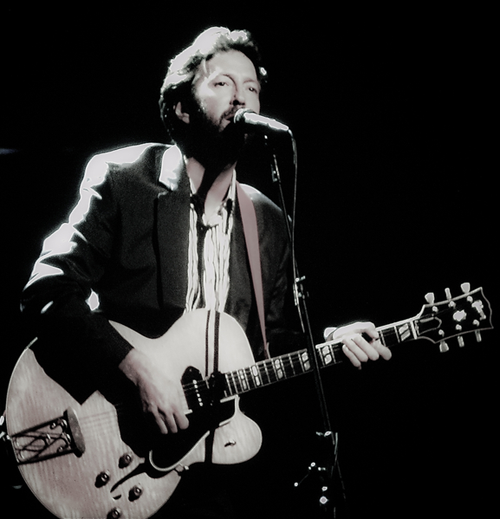 Gary Katz, who was producing "Let's Do It Again," one of the 17 tracks on the all star album, "All Men Are Brothers: A Tribute to Curtis Mayfield" in 1994, had a problem. He wanted a male singer for the second verse of the Mayfield composition, the one taken by Pops Staples of the Staples Singers in the original. The new group being recorded, The Repercussions, didn't have one and Katz had tried several singers and rap artists but was still unsatisfied. Then, he had the Big Idea.

Go to the source - Curtis Mayfield! Katz' idea was for the wheelchair bound and paralyzed Mayfield to talk rather than sing this verse. He was wrong about that… in the best way! As Katz told the New York Times, "I asked (Mayfield) if he would consider talking the second verse and he said, 'How about if I sing it?' I said, 'I'll be there tomorrow!'"

"Mayfield was brought to the recording studio and, lying on his back, nailed his part of the song in three takes. Again." It was, of course, a poignant and moving moment for everybody in the studio. "He was just as good as ever," said Katz.

Mayfield, apparently, was ready and determined about getting back into a life he knew, and this was a pivotal experience for him. Mayfield had earlier told the New York Times: "Life is still worth living for me. I still want to be strong for my children. I'm still the leader of this household."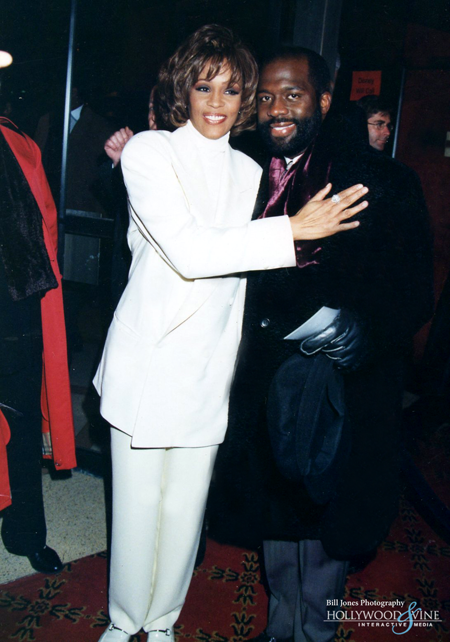 "All Men Are Brothers" is the recording world's response to Curtis Mayfield, his music and the man. And Mayfield was deeply appreciative. "Sometimes I play the album two or three times a day," he said. "It's overwhelming when I think of all these folks coming together…"

"These folks" were Eric Clapton, Phil Collins, Stevie Wonder, Whitney Houston, Aretha Franklin, B.B. King, Tevin Campbell, Steve Winwood, The Repercussions, The Isley Brothers, Sounds of Blackness, Branford Marsalis, Gladys Knight, Lenny Kravitz, Elton John, Narada Michael Walden, Bruce Springsteen and Rod Stewart. Everybody singing Curtis and everybody re-fashioning the music in their own way is itself a tribute to the breadth of Mayfield's musical talent. About all the star power included on the tribute album, Narada Michael Walden pointed out what brought them together, "The song is always the star especially when they're songs like Curtis's. That's why everybody approached on this project wanted to be involved."

And everybody came together at their own expense. All artists and producers royalties went directly to Curtis Mayfield (who also received additional royalties from Warner Bros. Records). That, in the financially preoccupied world of the recording industry, is a tribute of an extraordinary nature. Mayfield himself paid it forward, donating part of them to the Miami Project, an organization that, while unable to help Mayfield, does pioneering work in the field of spinal injury.
"Here But I'm Gone" Lincoln Center - 70th Birthday
"Here but I'm Gone" Tribute "It takes New York to pay tribute to the Chicago Sound," groaned the Chicago Sun Times in 2012, miffed to find that New York's prestigious Lincoln Center had given over an evening to celebrate the 70th birthday of one of Chicago's finest, Curtis Mayfield. And announce the kickoff of the Curtis Mayfield Foundation, organized by the family to support the musical dreams of disadvantaged youth.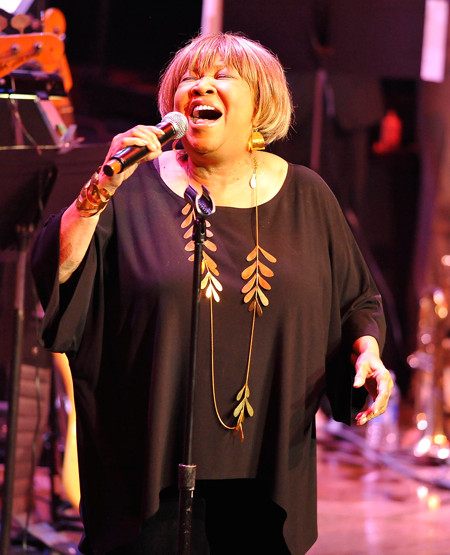 As usual with a special Curtis Mayfield Tribute, this one titled ; "Here But I'm Gone", a diverse assemblage of talent assembled onstage ranging from the vintage and veteran (The Impressions, Mavis Staples, William Bell) to the new generations (Aloe Blacc, TV on the Radio, The Roots) and the unexpected (Sinead O'Connor).

Possibly the most moving part of the tribute concert occurred early as The Impressions took the stage, backed by a 17 piece big band including a "Chicago sound" horn and string section and lead by Mayfield disciple, the guitarist Binky Griptite who has worked with The Impressions (and Mayfield) over the years. Griptite would take The Impressions into the studio the following day to record a new single.

Standing in front of a 2012 Manhattan audience were the two originals, Sam Gooden (aged 77) and Fred Cash (71) delivering Mayfield material with the same enthusiasm and attention to detail as they had in some funky chitlin' circuit club 50 years previously. They went church on the seat holders with "People Get Ready" following it with "We're A Winner," "Keep On Pushing," "Choice Of Colors" and "Gypsy Woman"; the total package and legacy of a great R & B, soul, funk group and its late iconic leader. Third group, Gooden and Cash, were joined by another Impressions vet, Reggie Torian and also fellow soul singer William Bell (for "Gypsy Woman").

Mavis Staples remained on message with a politically charged version of Mayfield's "This Is My Country," even taking time out to harangue "Take Our Country Back" protesters outside the theatre ("I ain't ever going back to the back of the bus! Never!")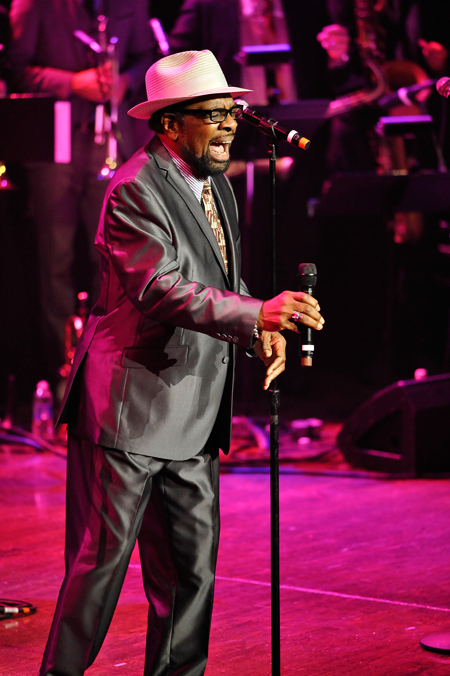 Soul singer Aloe Blacc gave a falsetto impacted version of "The Makings of You," that revealed, just how clearly this retro soul singer had graduated from the Mayfield College of the Arts. She had earlier informed the New York Times: "The beauty of the vocal style is that the voice is tender and approachable, not aggressive or threatening, but at the same time the lyrics are powerful and politically charged. It's a very effective way to juxtapose content and texture. You've got a hooky, catchy pop sound, but by the time you absorb the lyrics and get to the chorus, you realize you have been baited and switched."

Another female singer, Sinead O'Connor, who is on record as saying she considers Curtis Mayfield more important to her work than Bob Dylan and is the person who coined the phrase "a giant of gentleness" for Mayfield, brought a unique almost off beat touch to the proceedings with striking readings of two lesser known Mayfield songs, "Jesus" and "Billy Jack." Some considered this the most rousing moment of the evening. However, it had competition as the concert finished with all artists and musicians out front taking turns with, aptly, "Move on Up".

Contributing to the "Here but I'm Gone" concert line up were Dr. Lonnie Smith, Ryan Montbleau, Ivana Bassey, Meshell Ndegecelle, Bilal, TV on the Radio and The Legendary Roots Crew. In all, an event worthy of its subject even if it put everyone in a New York state of mind; or, as Jerry Butler put it to the Chicago Sun Times: "Interesting, isn't it. City No 1 doing it. Maybe we will wake up here in Chicago and start to celebrate other music that came out of this town in addition to the Blues."
The Hollywood Rock Walk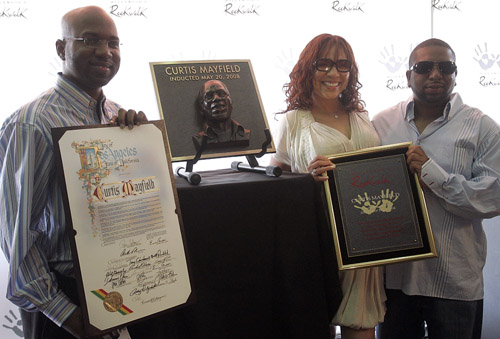 Curtis Mayfield's 2008 induction into the Hollywood's RockWalk was an opportunity to salute and acknowledge him, purely and simply, as a great guitar player.

The Hollywood RockWalk at the Guitar Center on Sunset Boulevard is the only sidewalk gallery dedicated to honoring those artists who have made a significant impact and lasting contribution to the growth and evolution of Rock and Roll, Blues and R & B. Mayfield was, and is, usually tagged as singer-songwriter but, in fact, he was a multi hyphenated music man: singer-songwriter-producer-arranger-recording engineer and guitarist.

Rolling Stone Magazine recognized his special guitar prowess listing him at No. 34 in it's 100 Top Guitarists of All Time.

Fellow musicians marveled at his method of playing the instrument. His colleague from the first days of The Impressions, singer Jerry Butler noted: "He used to love playing boogie woogie on the piano and he learned to play that in F sharp which meant he was playing all the black keys. That's how he came about his unique sound on the guitar because he tuned it that way." Mayfield used this instantly recognizable and characteristic open F sharp tuning for the rest of his career.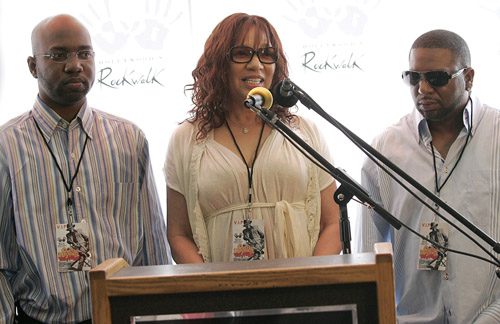 Another (later) member of The Impressions, singer Reggie Torian, who knew Mayfield well, once commented: "He developed an exceptional style. He tuned the guitar as though he was left handed, making the strings stack differently. There are only three guitarists today that play like Curtis; Billy Butler, (Jerry Butler's brother), Binky Griptite (guitar player who worked with The Impressions) and Eric Clapton."

Mayfield himself told Rolling Stone: "It used to make me very proud because no matter how good a guitarist was when he grabbed my ax, he couldn't play it!" And then, after the accident, neither could Mayfield. It was, he said, "my biggest frustration. My guitar was truly my partner in music."

The Curtis Mayfield RockWalk bronze plaque places him in company with other notable artists there, including Eric Clapton, Carlos Santana, Johnny Cash, Elvis Presley, Bonnie Raitt, Jerry Lee Lewis, Carl Perkins, Marvin Gaye, James Brown, Brian Wilson, Stevie Wonder, John Lee Hooker, Earth Wind & Fire and numerous others.

Fast company indeed; but, Curtis Mayfield more than holds his own.
The Rock and Roll Hall of Fame
The Rock and Roll Hall of Fame of Fame honored Curtis Mayfield twice - a rare distinction. The first time was 1991 as a member of The Impressions and the second time in 1999 as a solo artist. Both of these celebratory occasions were marked with sadness as on each evening Mayfield had to make his acceptance speech and thank his audience by video link. The first induction occurred only months after his paralyzing accident.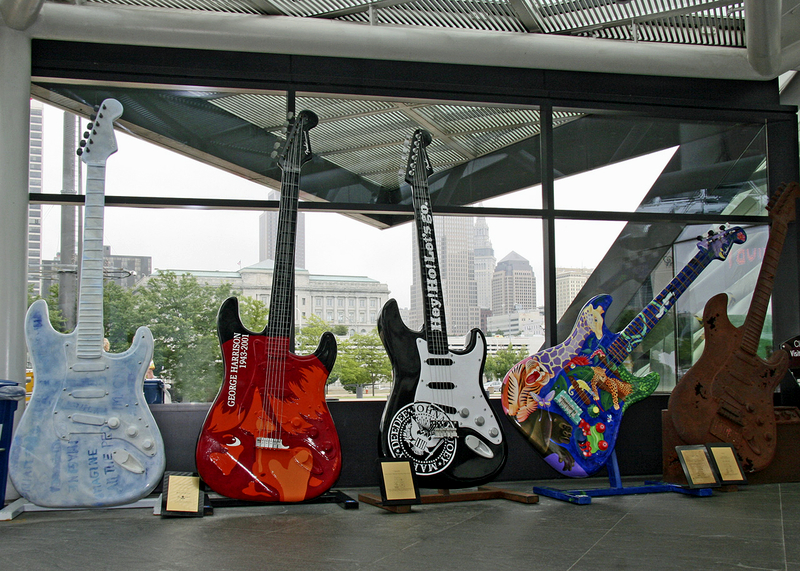 Fellow artists and the audience were emotionally moved watching Mayfield talking from his home in Atlanta via satellite. (The first induction was also marred by another somber event, the announcement of the beginning of the First Gulf War by then-President George Bush).

Present for The Impressions ceremony were former and present members of the group Jerry Butler, Fred Cash, Arthur Brooks, Richard Brooks and Sam Gooden.

The Impressions, noted the Rock and Roll Hall of Fame, "provided a critical link between Fifties Rhythm & Blues and Sixties Soul. They pioneered and epitomized the sound of Chicago Soul, a marriage of gospel and pop influences with a timely conscience. From the beginning, leader Curtis Mayfield was an innovative songwriter and producer whose work with the Impressions was typified by sophisticated yet celebratory grooves, elaborately detailed vocal arrangements, and lyrics that addressed and advanced the black freedom movement of the Sixties."

In his 1999 video acceptance speech, Mayfield paid tribute to fellow inductees and presenters that evening, including The Staples Singers with whom, of course, he had had a long association.

The full text of his speech here read: "I'm truly honored this year to have been inaugurated, along with Paul McCartney, for the second time into the Rock and Roll Hall of Fame. That's a gas, right there. I am so pleased to share this induction with such greats as Billy Joel, Del Shannon, Dusty Springfield, Pops and the Staples Singers, Charles Brown, and Bob Wills. I am also thankful for Bruce Springsteen, Puff Daddy, D'Angelo, and Eric Clapton for always being there during my time of need. My greatest admiration goes to George Martin for his productive work with so many artists, not to mention the Beatles, and so many others. I am so sorry that my health prohibits me from attending tonight's awards. But break a leg anyway; I am with you there in spirit. I wish to thank Warner Brothers, my manager, my wife, and my children for their love and support. Thank you."
Grammy Legend Awards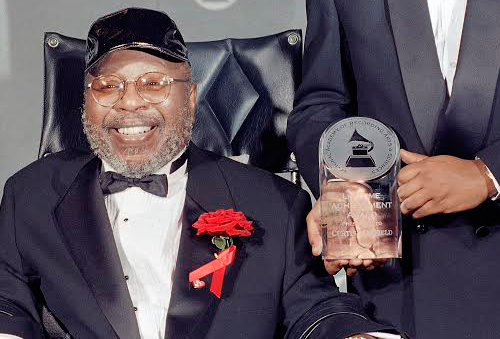 Ken Erhlich, long time producer of the Grammy Awards TV show, summed it up: "A lifetime of memorable music with a stage full of superstars." The occasion was the 1994 Grammy Awards presentation of the Grammy Legend Award to Curtis Mayfield.

The special award of merit, inaugurated in 1990, is presented to recording artists or groups for ongoing contributions and influence in the recording field.

They could be called the Curtis Mayfield Posse - the group of singers, groups and musicians who show up, no questions asked, no distance too far, to pay respect and tribute to the symbol and father figure of soul, R & B and funk called Mayfield. In this case the Posse assembled at Radio City Music Hall, New York, included Bruce Springsteen, Bonnie Raitt, Vernon Reid, Jerry Butler, Tony Toni Tone, Steve Winwood, B. B. King and, of course, The Impressions.

Mayfield was there too, backstage in a wheelchair. It had been over a year since his accident .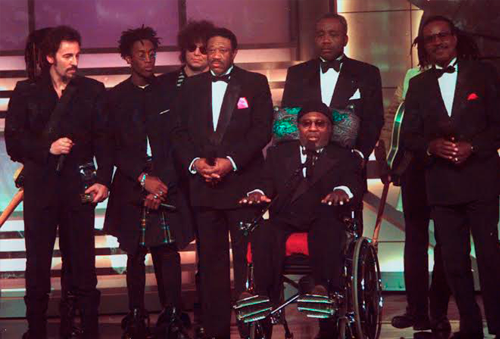 Springsteen and Raitt lead off with "People Get Ready" followed by B.B. King and Steve Winwood ("Woman's Got Soul"), Toni Tony Tone ("Freddie's Dead"), Springsteen again ("Gypsy Woman") concluding with the Impressions and the whole ensemble ("It's All Right").

Finally, Mayfield appeared, accompanied onstage, Jerry Butler and The Impressions, the people who had been with him the longest, at his side.

In his memoir, Ehrlich wrote: "This once strong, soulful voice struggled to deliver some equally soulful chosen words that evoked the spirit of his greatest songs."

A year later Mayfield would receive a Lifetime Achievement Award from the National Academy of Recording Arts & Sciences, the organization that controls the Grammy Award. This particular honor is voted for by the inner circle, the Trustees of the Recording Academy and is presented to performers "who, during their lifetime, made creative contributions of outstanding artistic significance to the field of recording."

The Grammy Organization honored Mayfield two more times, placing two of his seminal recordings in the Academy's Hall of Fame, which salutes recordings covering the whole threshold of recorded history from Thomas Edison to the current developments. Chosen were The Impressions' groundbreaking "People Get Ready" and Mayfield's equally genre shattering soundtrack from "Super Fly."
"People Get Ready" Inducted into Library of Congress' National Recording Registry
In 2016. "People Get Ready" was among the recordings selected for induction into the Library of Congress National Recording Registry. Acting Librarian of Congress David S. Mao named 25 new sound recordings to the registry that have been recognized for their cultural, artistic and/or historical significance to American society and the nation's aural legacy.